You have a specific project?
Follow the steps in our door configurator and receive your custom quote directly online:
Our different sectional doors
Space Saving:
Sectional door open up vertically, the panels of your door slide up your vertical rails and position themselves in the horizontal rails under the ceiling. Thanks to this system, the door allows to save space by rising vertically and sliding under the ceiling. A car may thus be parked near the door without jeopardizing the operation of the door.
Existing garage:
The shape of the bay (circular, straight …) doesn't interfere with the fixing of this type of door. Each door is made to measure and fits your building.
Security:
With its built in security system complying with the highest safety requirements, the system meets all the relevant European standards (CE certificate).
Our doors are insulated with double walls and measure 42mm, equivalent to a thermal insulation coefficient of 1 to 1.4 W/m².
Model :
We offer a large range of different models and colours so your door is designed exactly according to your tastes and wishes. You may also choose portholes or a security gate or you may want to contact us if you have any other concrete ideas.
Delivery:
You may choose to come and collect your door in our show room or have it delivered to your address.
Advantages:
Insulation, resistance to intrusions (especially linked to a motor without any external lock), easy operation and most importantly, space saving inside and outside.
Detail of panels of your door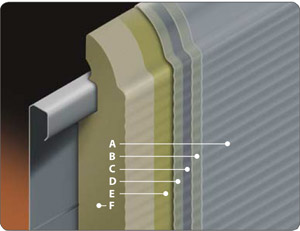 The ISO system garage door consists of so-called ISO-panels. The sectional garage door is custom made. Length of the panel depends on the width of the opening of the garage.
The system used is called the "sandwich principle". This is a panel of sheet steel and rigid foam (Polyurethane). Each side is in galvanized steel + color.
The panels are placed in the longitudinal direction and are hinged. The design of panels is chosen so as to minimize the risk of pinching of fingers between the panels during opening and closing.
This product is very weathe and corrosion resistant.
The sectional garage door is characterized by its heat insulating properties noise level, and modern panels.